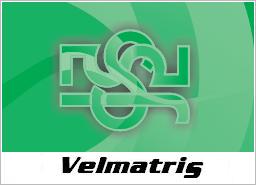 VELMATRIS Consultoría e Informática, S.L. is a Spanish company, founded in July 2008 with the aim of being a leading company in the industry, specializing in the area of security consulting and other areas of computing.
Our core values ​​are a good team, knowledge, experience, professionalism and performance. Our experience of over +20 years and the continuous updating of knowledge in protecting applications, systems and networks, give us the ability to give our customers a high level of responsiveness, quality and guarantee of success.
Professionals and solutions to various business sectors, services add us great visibility and ability to provide tailored solutions to our customers.
Our target

Our main objectives are ensure the availability of our customers' business:
optimizing time-cost products
facilitate knowledge
technology needed to enable them to manage their resources
more efficiently as possible.
Get their trust and loyalty, for your reference and security consulting, through actual demonstration of solutions, level of responsiveness and professionalism.
Currently, companies have a greater need and dependence of companies specialized in the sector. They are companies like Velmatris where customers put their trust to delegate part of their information management in different fields, mainly in the area of security, as well as advice on the needs of daily updates and computer systems and applications. The management of information technology should be reliable for improving management needs to ensure services comply with security policies and associated new technologies (software and hardware) development.
At present, the management of information technology should allow to have the right information when needed and provide solutions to our business requirements as needed in different parts of the company. We can help and advise on matters relating to systems, applications, development, security, performance, project planning, process automation, software deployment platform and distributed environments, and predict and prevent problems in your business structure before they manifest, etc..